Bucks Party Perth
Wild Bucks Party Perth
So, you're the best man, huh? I'm sure you're proud to be given the responsibility of your best mate's bachelor party, but it sure is a headache planning the bucks party strippers Perth. Bad Bunny know exactly how difficult it is, in fact, we thought it was so difficult that we should do something about it. We decided to make planning a bucks party Perth style so incredibly easy for every single best man. All you need to do is give Bad Bunny a call and we will help you put on an unforgettable stag do Perth, which you will get all of the credit for organising, of course!
Our group of gorgeous bucks bunnies will put on a show which everyone will enjoy. Whether you want strippers, waitresses or poker dealers, we will provide them and they will not disappoint at your bucks party Perth!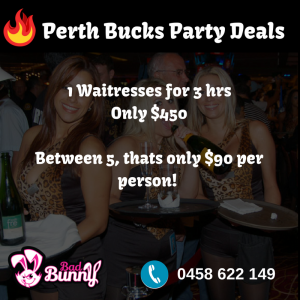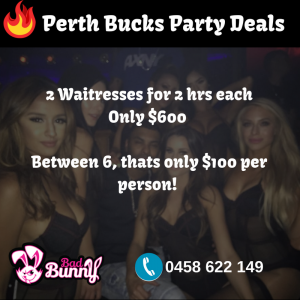 mg class="alignnone size-medium wp-image-2077 aligncenter" src="https://www.badbunny.com.au/wp-content/uploads/2016/06/2-300x300.png" alt="" width="300" height="300" />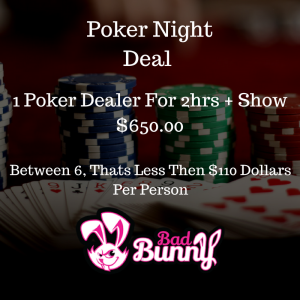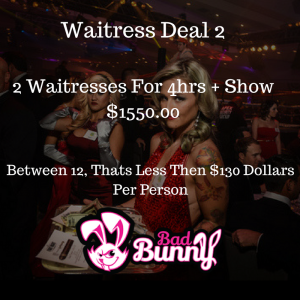 What to expect at a Bad Bunny Bucks Party Perth

Bad Bunny bucks night entertainment Perth are an experience unlike any other. They are wild, fun, sexy and unbelievable, our bunnies always aim to please! From start to finish our bunnies will keep you entertained, because they want to make sure that every single one of the group has a smile on their face! But, don't forget, you must follow the rules, because if someone steps out of line our bunnies might bite!

To ensure you have the best Perth buck's night when speaking with one of our friendly staff members please ensure to give us much details on the night as possible. How many guests will be at the stag night? is it a mixed crowd of male and female? will parents, uncles or older family members be at the bachelor party Perth? Once our team members have a firm understanding of what you want out of your buck's party Perth we can recommended services and packages that best fit what you need for your big night. Maybe based on what you tell us we will recommend a night of sexy waitresses, or a poker dealer to give your Perth stag night a Las Vegas feel. No matter what you are after the team at Bad Bunny will help you out!



How to pick the right bunny

Just as there are many names for a bucks party (stag night, bachelor party) there are so many different bunnies, all unique in their own way. Whether you like blondes, brunettes or redheads, curvy bunnies or petite bunnies we have a bunny for you. The bunnies all have different talents as well, so make sure you choose the right one for your Perth bucks night! Do you want to have a laugh by embarrassing your mate, do you want some bunny company or a very sexy dance? Our bunnies are all different, in both skill sets and prices, so we will help guide you towards the right one for your stag night Perth.

Coming soon! Bad Bunny Bucks Packages will include multiple venues and activities partnered with the Bad Bunny girls. These Perth buck's packages will be discounted rates on some of the best activities you can have for a bachelor party in Perth, with some of Perth's best venues also available for your stag night. All of this of course will come with some Bad Bunny girls to ensure that every box is ticket for an awesome Perth bucks night.



Plan the most outrageous buck's night Perth has ever seen

Bad Bunny Perth buck's night packages are some of the best in Wester Australia. Ask about our 2018 Stag Night special by calling us on 0458 622 149, or fill in the call back form, we ensure that all our clients Perth bucks parties are 100% satisfactory, providing waitresses for $150 per hr and strip shows from $400 - $800, poker dealers, caddies and DJs can also be requested. With all these options Bad Bunny Bucks will ensure your bucks night Perth is a success.

I'm sure you're thinking the same thing I am right now, it's much less painful to leave the organising to the Western Australia bucks night experts! Let our sexy bunnies give you all a night to remember at a Bad Bunny bucks night Perth. Just give us a call and everyone will be calling you the best man after your awesome bucks night in Perth!



Bonus Bachelor Party Blunder Story

If you're the best man don't buck up the bucks night! Here is a story from one blokes bucks party, it didn't turn out how he was expecting, that's why we always recommend calling our staff before you plan the bucks party Perth. I was the best man at my mate's bachelor party and we all decided to go to Sydney from Perth for the weekend. We had 8 guys and planned to have the wildest 2 nights of our lives. Ee got SO much more than we expected. As soon as we arrived and dropped our bags off at the hotel we headed straight to the streets, it didn't take long for us to realise that we were smack bang in the middle of mardigra, the biggest LGBT party in Australia. Now all of us boys just looked at each other and said f@#k it if you can't beat them join em (HAH).  So we spent the next 2 nights partying hard at mardigra. By the end of the 2 days we had ridden on one of the floats in the parade, the bucks got arrested for indecent exposure whiles marching and we all got locked out of the hotel for the final night. Now my girlfriend was a little worried about what would happen on this trip (I think she was worried about the strippers) but she was even more mortified to see me back home with a gay pride t shirt, about 15 beads wrapped around my neck and more glitter then kesah in a music video.
Strippers