The Bad Bunny Girls Confess Their Worst Dates Ever !
Okay we have all been on one or two horrible dates in our lives…….you know the ones that make you think hmmmm maybe being forever alone wouldn't be that bad ? ?….haha okay but in all seriousness these bunnies have had some shocking dates over the years and that's why we are spilling the beans and confessing all of our worst and most memorable dates over the years. Oh and don't worry guys these bunnies always play nice so there will be no naming and shaming ?
Our first Bunny date confessions is definitely one with a weird twist….enjoy ?
So one day I was invited on a date for some Thursday late night shopping…..I had met the guy through a mutual friend at a party and he seemed really sweet and was pretty easy on the eyes…..I drove out to the Shopping Center and arrived in the food court at 6 0 clock (this was the decided meeting time). So I sat down in front of the Red Rooster counter ( what a romantic spot to meet ? ) and waited for my prince charming to arrive, well soon it was 6.20 and I was thinking he was going be a no show (okay I know what you're thinking, you got stood up girl, well not quite). Eventually he rocked up, he quickly dashed over gave me a hug and apologized for being late (traffic apparently) I wasn't really all that mad just excited to get the date on the way and see where it leads. That's when I noticed a tiny little lady standing legit 2 feet away from my date and just staring with a weird smile ?. At first I thought she was just one of the many people trying to get some shopping in…..NOPE……"oh I nearly forgot this is my mum" said my date…."she can't drive and needed to pick some things up from the shops so I said she could come"…………….:"Oh great" I said (what was going through my mind was a completely different story ?) Now don't get me wrong guys I love a guy who has a good relationship with his mum, but there is a time and a place, and a first date is defiantly NOT the place.
Well basically after the awkward meet and greet the 3 way date began……first stop the health food shop to get mum some lotion to help with her old cracking heels. To cut a long story short we basically walked around getting things for his mum, the whole time I could feel her piercing old gaze on me every time I wasn't looking, plus she didn't say a word to me the whole time…………I think she was worried I was going to steal here boy away from here…………Don't worry mum he is all yours ? ?
Out of all the dates I have been on that was probably number one hands down the worst date ever!!! I mean the guy was more interested in his mum's foot fungi problem than me. Moral of this story guys is that it's a good thing to get on with your mum, but please leave her at home……all girls not just us bunnies want to feel special and when we take time out to hang or get to know them. We definitely don't want to be fighting for your attention with another girl……….especially your mum ?
xxx ?‍
If any of you ladies need a Male Stripper or topless waiter contact the Bad Bunny Girls……Just use the code word (mummy's boy) for 5 percent of all services ?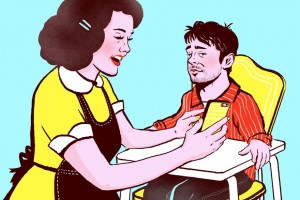 16 May 2016
0 Comments
admin