Topless Waitress Perth
Sexy Topless Waitress Perth
 Scroll Down to the Bottom to See Some Bad Bunny Topless Waitress Perth Profiles
XXX sexy entertainment. Is your bucks party around the corner or maybe you are hosting a party or special event, maybe you are just having a few of the boys over to watch the footy. No matter what the occasion there is nothing better than a gorgeous sexy Bad Bunny
topless waitress Perth
to add a little more fun and a whole lot of sexiness to the party. Bad Bunny entertainment is number one for stunning and sexy topless waitress Perth, providing you with girls who not only have amazing bodies, but know how to entertain and ensure your night is one you wont be forgetting anytime soon. So what are you waiting for ? call us on 0458 622 149 to book your Bad Bunny barmaid, waitresses for your party, bucks or private event.
From the profiles below you can pick any one of our sexy Perth barmaids, topless waitresses, nude waitresses for your next event. All the girls displayed in the gallery below are available for topless and nude, just pick the one you like and call us to lock in the bunny. If the topless barmaid or waitress isnt available we will send through profiles of al
l girls who are free! you can then book the bunny you like to be the topless waitress for your bucks or private event.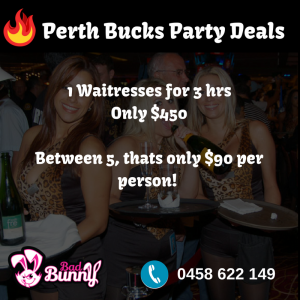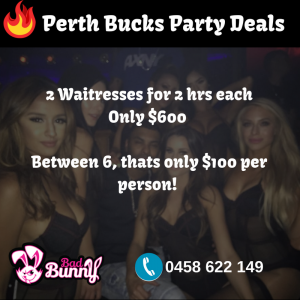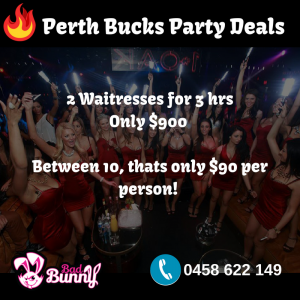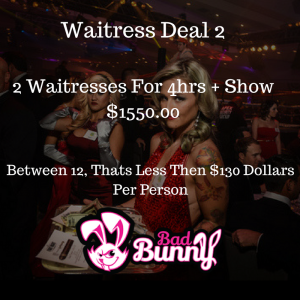 What to Expect

No matter the event our topless waitresses will tend to your every need while looking absolutely stunning, and yes completely topless or nude!   If you are looking for a fun evening and you want to add a bit of spice to the evening then our bunnies can certainly keep things hot. Our sexy waitress Perth will serve you drinks, food and overall entertain you boys all night, our bunnies are not only the most beautiful in Perth, but also have the best banter. Remember that our bunnies may bite if someone isn't following the rules! Always be respectful of the girls and they will do the same.

Know your probably wondering what the different prices are for Perth waitresses, Perth bikini barmaids. Our prices at Bad Bunny are nothing over the industry standard for Western Australia, this ensures you get nothing but the highest quality girls to serve your drinks. For $300 you can book a topless waitress for 2hrs, this will include awesome service and even better banter.



How to Pick the Right Bunny

We have so many different bunnies, so you need to know how to pick the right one for your event. Do you want blondes, brunettes, redheads, curvy bunnies. Either way, we have what you are looking for in a Perth topless waitress! What do you want from the bunny do you just want her to stand there and look pretty or do you want her to put on a show. We want to give you the best topless or nude waitress experience you will ever have, So think about what you want from your bunny and we will guide you towards the right one for you.

Simply check out the profiles of each girl below, there you can see sexy photos of each bunny, as well as their special performances and personality. Each bunny is different and with our network spanning across Perth city we can always find the right bunny for you. Some of our bunnies are a little camera shy, so simply tell us what type of entertainer you are after and we will reach out to our network to provide you with the best.

Make sure you also compare our prices with the service that you wish to book, if it's a topless waitress or barmaid you are looking at a price of $150 per hour. For a nude waitress or barmaid the price is $250 per hour, now always remember that Bad Bunny Is all about providing quality service. If you are after the cheapest price then your quality of girl will be lower, Bad Bunny prices are industry standard ensuring we only work with the most professional and beautiful women in Western Australia.  If you still want cheap then we would suggest looking on a site like lacanto, just be careful of scammers (you have been warned) as not all the girls or supposed girls are legit entertainers within this industry. So when hiring a topless waitress Perth make sure you contact the team at Bad Bunny, we will ensure you get the best entertainment for your event, without breaking the bank of course.



Why Bad Bunny for Topless & Nude Waitresses Perth?

So if you want a topless or nude waitress at your next event or party make sure to call the Bad Bunny team. All our bunnies always please our clients, with over 5 years' experience in the industry we are the number one Perth adult agency for providing high quality service. This means all our bunnies show up on time and are ready to entertain and make sure you guys have a fun night. So when you need a topless waitress in Perth, bikini barmaid Perth, Skimpy or nude waitresses then call the Bad Bunny team on 0458 622 149

Don't delay, call us today for a night you won't be forgetting anytime soon!




**Please Note**
None Of The Girls Advertised on Bad Bunny Deal With Any Escort Based Services, So Don't Embarrass Yourself By Asking
Strippers